You followed your dream and chose nursing because you wanted to change lives. Make a difference. Connect with people.
Nowhere can you fulfil these passions more than by entering the world of Advanced Community Care with Resilience. A dynamic, progressive team of professionals working in the community to add the best value possible to precious lives in need.
It's about people caring for people
Advanced Community Care provides specialised services to children, adults and families who require support in the face of injury, illness or disability – or who require the intervention of medical technology to survive.
Our team of nurses works in the community, in their clients' homes – delivering one-to-one, highly-personalised, individual nursing that takes them right to the heart of families of need.
Ours is a progressive, forward-thinking approach and practice.
Watch our video below to learn more...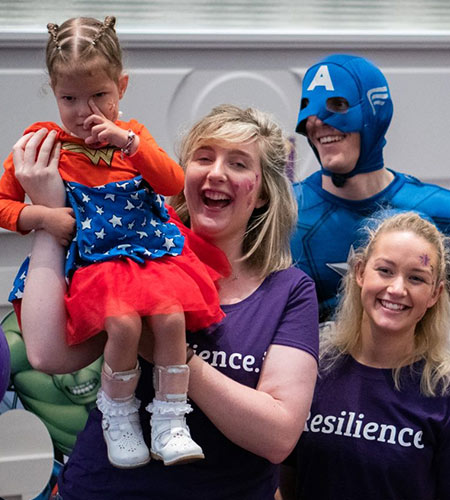 ACC - What We Do (Image Right)
This is your opportunity to work at the cutting-edge of complex care – learning, experiencing and growing – while tapping into the human side of nursing that drove your career choice.
As an Advanced Community Care Nurse...
You provide nursing support to one patient, out in the community, in their family home.

You nurse patients with a range of complex needs including invasive and non-invasive ventilators, skin disorders, life-limiting illnesses and congenital disorders.

You are carefully placed within a family, according to your skills and experience and on secure contract. This is a permanent role allowing for continuity care.

You provide palliative care to children and young-adults who have a life-limiting medical condition.

You have the constant support of one of 7 nurse managers, so you never feel left alone to cope.

You work the hours you choose – that can be 40 hours a week or as little as 10 hours a week. You can work only with us, or you can combine this work with your HSE work, enabling you to keep your benefit package.

It's a focused, individualised approach to nursing in a comfortable, family environment.

You are able to keep up your ongoing education and general nursing skills by doing accredited training programmes with us.
As an Advanced Community Care nurse...
...your skills and quality care can turn situations around – enhancing quality of life, bringing safety, stability, even meaning, to those in your care. It's about making the difference between a life of uncertainty and fear, and one of value and hope.
Our Philosophy and
Principles
As much as you take care of the needs of the family to whom you are allocated, we care about you. Whether it's providing advice and support or assisting with your continued studies – we're a team that has your back.
We represent the kind of consistent medical care that agencies and temporary staff services cannot provide. This works for our families, and it works for our team members.
Whether it's contributing towards academic research and advancements in our field, or helping nurses keep up and improve their skills at our Academy – we are constantly looking forward and moving ahead.
While Advanced Community Care lets you explore a much more individual approach to nursing, you also have the solid support and constant anchor of a permanent Nurse Manager. It's about working independently – but never feeling alone.