Resilience Supports Dogs for the Disabled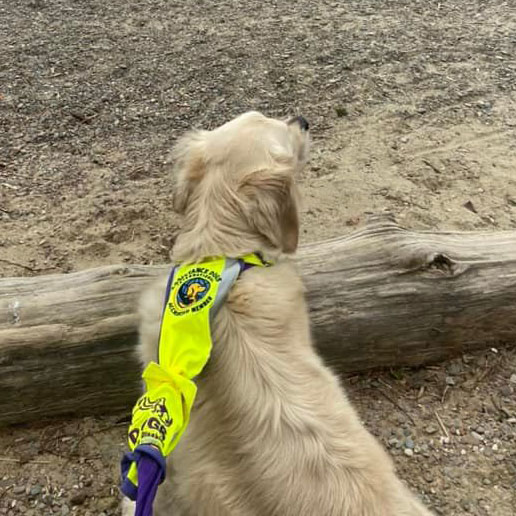 Michelle and Nicky's Story
At Resilience, our core mission is to enhance the quality of life of those we support – be this through specialist nursing at home, or progressive social care services.
We have a passion to collaborate with partners who share this commitment and who help people with disabilities live more independent lives. Dogs for the Disabled is a charity that actively lives this ethic – which is why one of our nurses was delighted to recently offer her time and her home to help care for one of the organisation's important pups.
Michelle Curtin is a Nurse and Regional Manager with our Advanced Community Care division in Cork/Kerry.
Michelle volunteered to take Nicky, a 2-year-old Golden Retriever, and provide him with basic training, love & attention at home to prepare him for formal training at Dogs for the Disabled in Cork.
Many people living with a disability can feel isolated and a loss of confidence. Being unable to manage even a simple task like emptying the washing machine can leave them feeling low and dependent. Dogs for the Disabled is a unique charity that aims to improve the lives of children and adults living with physical disabilities in Ireland by providing multi-talented Assistance and Therapy Dogs.
The charity's Assistance Dogs are specially trained to assist physically disabled children and adults carry out a range of practical tasks, so that they can achieve greater independence. Assisting with simple everyday tasks such as opening and closing doors, fetching the post and switching lights on and off are part of a
dog's training programme – and each dog is trained to cater for the specific needs of an individual client.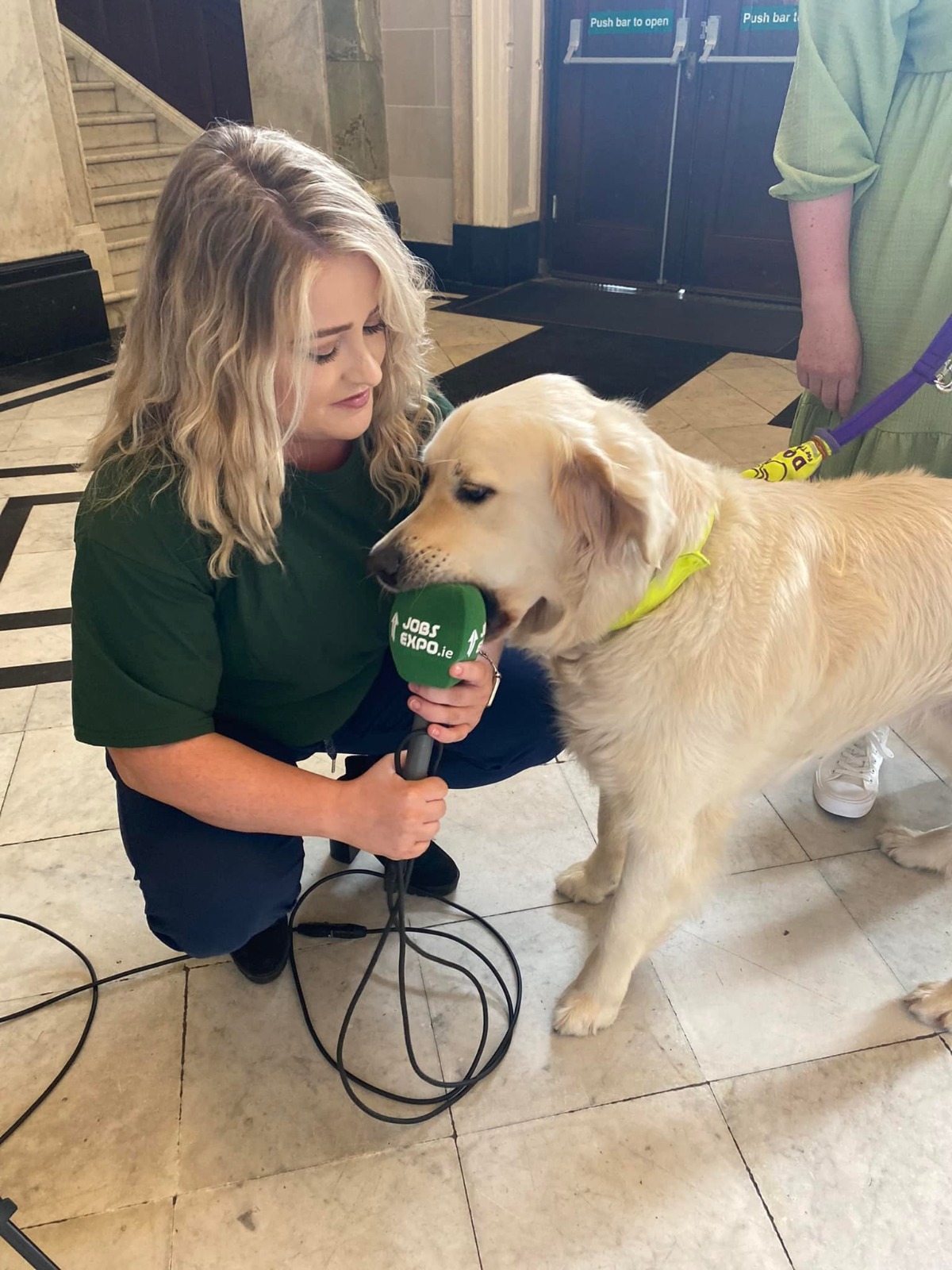 The Start of an Important Journey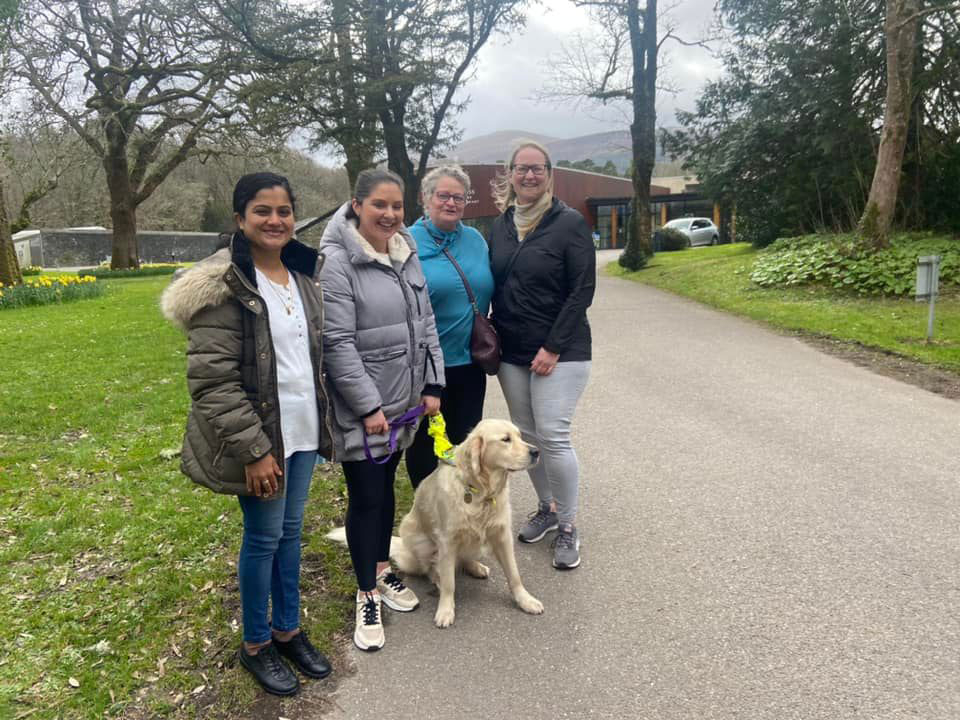 In home boarding, such as that provided by Michelle, is an important first step for all assistance dogs. Living at home with their volunteer, they learn key skills such as basic manners and socialising, while receiving lots of love, fun and attention from their humans. Volunteers can care for a dog for a period of 18 months plus, or on a short-term boarding/holiday basis.
Michelle felt she was able to offer an ideal home training ground for one of the organisation's trainees. She is passionate about collaboration, and has a young family whom all LOVE dogs!

I had Nicky for 4 months – providing him with basic training, socialising and love, until he was ready to be matched with someone permanently and return to the HQ for his last leg of formal training. Eighty-five percent of the organisation's applicants are children living with disabilities, and the difference one of their dogs makes is extraordinary. I felt I was in a unique position in my role and home life to expose the dogs to children. It is lovely to have different dogs with their different personalities in and out of the house, it brings joy and laughter to my home and work.
The dogs are amazing and the affection they show to everyone they meet is so heart-warming. Through my work and home life I was able to introduce
Nicky to lots of different environments. He came with me to corporate meetings, HSE meetings, staff meetings, as well as family visits.
Michelle Curtain – Regional Manager, Advanced Community Care-  Cork/Kerry
Empowered, Enabled, Included
Dogs for the Disabled is completely dedicated to supporting disabled people to become active members of society, not limited by their disability. An Assistance Dog means not having to ask for help with everyday tasks – building confidence and reducing stress. It can also make returning to work or pursuing further education possible for a disabled person. Partnering with an Assistance Dog helps break down barriers and it can be life changing. Dogs for the Disabled delivers around 28 fully-trained dogs each year and the organisation has developed a unique Assistance Dog Stability Programme for children – the only one of its kind currently running in the EU. Michelle highly recommends becoming a volunteer and offering home training:

All costs are looked after by the charity – all you need to give the dog is love. Of course, it's hard and sad to give them back, but made easier when you see updates of their journey on the website. You can see who are helping and what they are doing – and being a part of that journey gives you such a positive feeling.