Pebble Beach House:
Potential Is In The Detail

Everything is about improving quality of life, to make our service users happy. CHOICE is key here – its an essential part of reaching potential.
Michael John O'Shea – Support Worker
Pebble House is a much-loved home to a group of youngsters in Kerry – a place of safety, support and happiness. But it is also a place that encourages them, every day, to little by little get closer to reaching their potential. To make the kind of steps and developments  that can allow for a fuller, more meaningful and independent life. You feel this energy when you arrive at Pebble Beach, but there's no better way to really understand the changes that are being made possible, than by hearing the stories, the little details – of those who live there.
Pebble Beach has two full-time residents, one youngster who stays for 6 days a week, and two who are there on an alternative-week basis. The service users are aged between 14 and 19, and have Autism, Intellectual Disabilities, Attention Deficit Hyperactive Disorder (ADHD) and Obsessive Compulsive Disorder (OCD). Three of the youngsters are non-verbal. Each of the residents has two key Support Workers, and they are in daily contact with the families, updating them with each day's events and progress.
The philosophy of Pebble Beach is to support service users, to empower them and to encourage their independence – involving them as much as possible in all aspects of daily life, and with their community. Pebble Beach Support Worker Michael John O'Shea explains that this is a strong culture, and it applies to the smallest of details:

Even if it's just making a cup of tea, we encourage our service users to do things for themselves, and every staff member understands this. Choice is a big part of this, because that's how people feel empowered. So we sit down with the service users every week to discuss their choices for the week and their weekly activities.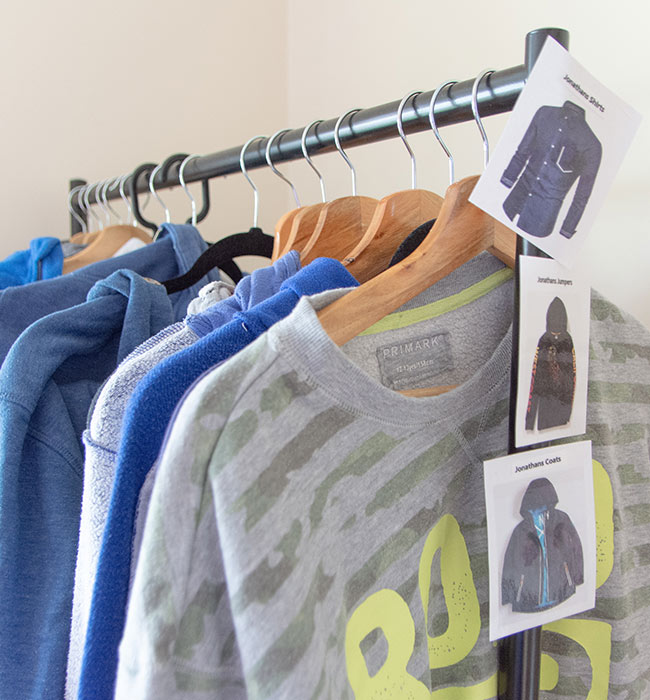 Michael John and colleague Michael Wrenn are the designated Support Workers supporting Tom*, aged 14, who has Autism and Intellectual Disabilities. He first came into their lives when he was living at home and getting weekly Outreach home support from the team. He was recommended for full-time residential care at the House, and began the process of transitioning. This can be a challenging time, and the team had to be prepared for this as they slowly introduced Tom to life at the home.
"We were challenged by many different behaviours of concern. Tom was running away, being aggressive, stripping, hitting staff and other service users. As part of the standard Background Assessment, we spent a lot of time talking to the key people in his life, to get to know him better. We talked with teachers and the principal at his old school, with his SNAs, his Nan. Then we did a Functional Assessment, where we looked at Tom's behaviour patterns, trying to understand what he is trying to tell us by his behaviour, and what the triggers are. From there we put together a Multi-Element Behavioural Support Plan – which details the types of interventions needed, the skills that need to be taught, how we needed to communicate with Tom and how we would monitor results."
Both Michael and Michael-John have trained in Positive Behaviour Support - a person-centred approach to supporting people who display behaviours which challenge. It involves understanding the reasons for the behaviour and considering the person as a whole. It focuses on creating physical and social environments that are supportive and capable of meeting people's needs, and teaching people new skills to replace the challenging behaviours.
One of Tom's behaviours was to climb out of the window and leave the house – always going to the bus stop. The team realised this was telling them that the youngster wanted to go for a drive, to go somewhere or do some kind of an activity. As Tom is non-verbal, the Picture Exchange Communication System (PECS) became a key tool from the start:
"We started working with Tom to show him how he could use pictures to communicate what he needed or wanted. He learned that, if he wanted to go somewhere, he needed to bring us the picture of the bus, rather than climbing out of the window. Each time he did this, he would be rewarded."
Tom would also frequently communicate by grabbing the arm of his Support Worker, and become quite aggressive if they were busy doing something else – so Michael John and Michael used Positive Behaviour Support to show him that if he waited for five minutes, his needs would be met. He needed to be assured that they did understand that he wanted something, but that the correct behaviour was to wait for them to finish what they were doing.
"We would start by showing him a picture of cup of tea, teaching him that he needed to wait until we finished a drink. We would count to 5, and then say 'now show me what you want'.  It took 6 months to get him to wait 5 minutes, but now we can get him to sit and wait for us. This is empowering for Tom – it is an encouraging way of working with challenging behaviours, rather than a punitive one."
The Support Workers also employ a technique called Intentional Interaction. This is a form of human contact and interaction where those who are supporting, gain the trust to enter into the service user's personal space, with no demands made.

Tom might be sitting anywhere, and we will just go and sit alongside and be with him. We won't talk, just let him take the lead, make eye contact, and copy what he does. We are with him on his terms.
Tom's behaviour has changed a lot since the early days – and the difference in his happiness is marked. He doesn't hit out nearly as much as he used to, doesn't often get over-excited and has only tried to leave the house once. While Michael John and Michael were told by Tom's school that 'no one should try to get close to him' – they have proved this wrong.  
*The name of the individual concerned has been changed to protect their privacy.