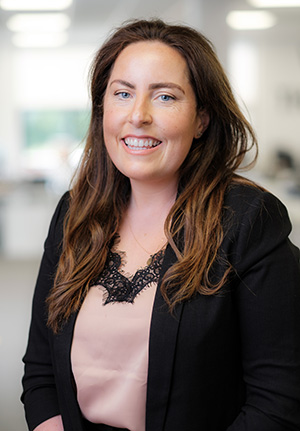 Clinical Services Manager
Katie Morrissey
Katie is originally from Louth now residing in Meath and has joined Resilience as a Clinical Services Manager. Katie has a BSc Hons in Biomedical Science from NUIM and always had an interest in learning about illnesses. It became quickly clear during her education that although she had a passion for medicine, she wanted to learn more about how living with an illness impacted on an individual's function, wellbeing, and quality of life so it felt like a natural decision to go on and complete a MSc Hons in Occupational Therapy in University of Derby. Katie has almost 10 years' experience working as an Occupational Therapist across the NHS, HSE and independent settings progressing up to a Clinical Specialist grade during her time in the NHS. Katie has a variety of experience and skill sets from working in acute medicine, rehab, oncology, paediatrics, neuro, intermediate care, stroke and in community settings. Katie has recently commenced training in Healthcare management and has an interest in progressing to a MSc in Leadership in Healthcare.
Speech & Language Therapist
Laura Jeffery
Originally from Cork, Laura completed her General Nursing degree in NUI Galway in 2012. While working as a Nurse in an Acute Stroke Unit, she developed an interest in helping patients learn to communicate again. She then went on to do a Masters in Speech and Language Therapy at the University of Limerick. Laura has nearly 4 years' experience working with both children and adults with communication difficulties, as well as assessment and management of swallowing difficulties in adults with acquired and progressive neurological disorders.