Outstanding Speakers at Resilience Healthcare's symposium for nurses
Some of our Resilience Nurses pictured at our Symposium 2022
Linking up and learning from each other. Working together and sharing experiences: This is what happens when people create connections, and the recent Resilience Healthcare Symposium was certainly a case in point.
Here, our team of complex care nurses from around Ireland came together with key speakers and healthcare professionals for a day of invaluable learning and development - the first of its kind since 2019 due to the Covid pandemic.
Taking place on Thursday 6th October 2022, at The Killeshin Hotel, Portlaoise, the Symposium was a dedicated knowledge-sharing event for the Resilience Healthcare's Nursing division. This division is dedicated solely to providing complex nursing care to children, adults and families who require support following illness, injury, or disability - within a family's home.
With many clients requiring the intervention of medical technology to survive, nurses deliver one-to-one, highly personalised nursing care. This care makes it possible for so many clients to be supported at home, surrounded by their families, rather than in hospital. In this way, it demonstrates our goal of 'Bringing Possible to Life'.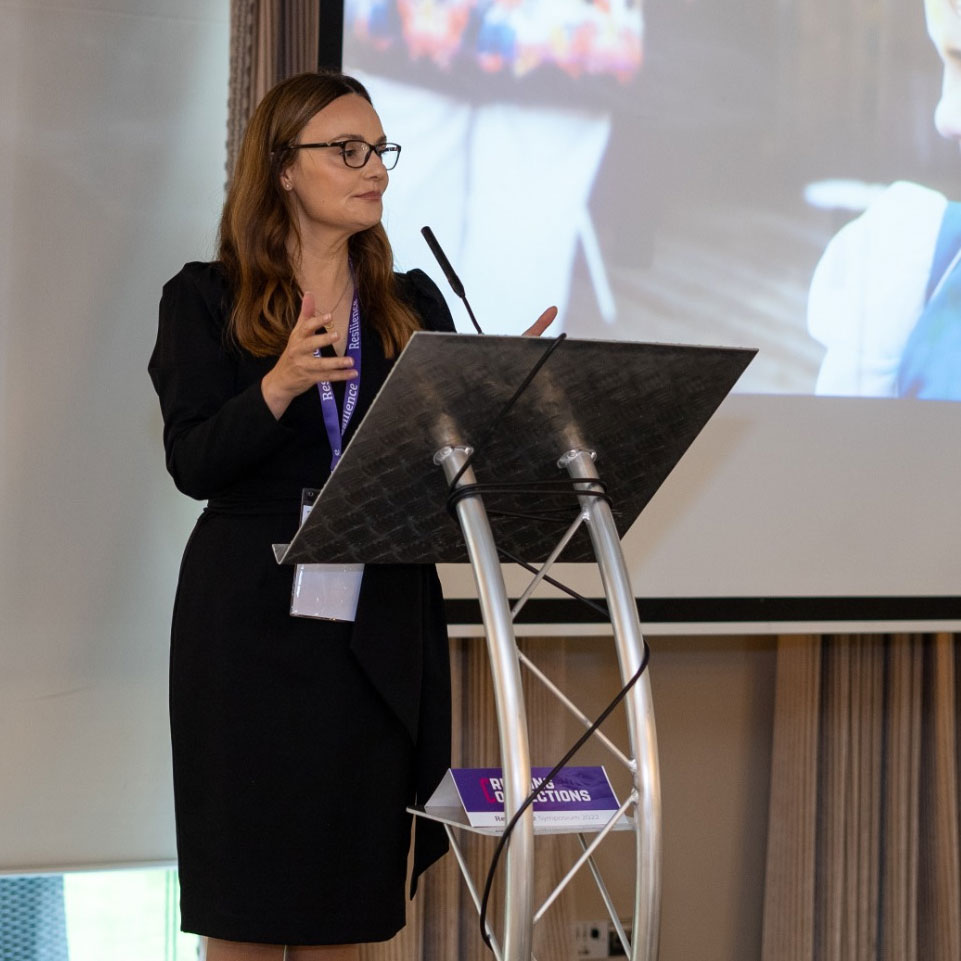 Olivia Sinclair addressing Resilience Nurses at our Symposium 2022
Connective Collective Power
The theme of the Symposium was 'Creating Connections' and in attendance were 80 of our experienced and highly skilled nursing professionals, Nurse Managers, Regional Managers as well as corporate team members and HSE and other healthcare representatives.

This is our first Symposium since pre – Covid so it was extra special to be reminded of the power of connection and collaboration. It was an opportunity to reconnect and recommit ourselves to continuously developing our knowledge and understanding of lived experience - for the benefit of our people and our clients and their families.
Director of Services, Olivia Sinclair
Inspiration and Expertise: Two Key-Note Speakers
The Symposium's focus was on Spinal Injury, with numerous expert speakers speaking on the subject across the day, including two of Ireland's most influential and inspiring people within this specialised field of healthcare. Pharmacist-turned-keynote speaker, Jack Kavanagh, gave an uplifting address, sharing his experiences and knowledge. A pharmacy graduate of Trinity College Dublin, Jack sustained a life-changing spinal cord injury in 2012: he was paralysed, with just 15% muscle function. In the years since, Jack has dedicated himself to challenging the perceived limitations of his situation and has become one of the country's most inspiring advocates on overcoming adversity - sharing his story of turning challenge to advantage.
"Resilience doesn't always just live within us, very often it lives between us." was a quote shared by Jack on the day.
The Symposium also welcomed Consultant in Rehabilitation Medicine at the Mater Misericordiae University and National Rehabilitation Hospitals, Dr. Éimear Smith. Dr Smith's specialist interest and training focus is spinal cord injury medicine and rehabilitation. Dr Smith is President of the Irish Association of Rehabilitation Medicine; current National Speciality Director for Rehabilitation Medicine; and a Member of ISCoS, ASIA, MASCIP, RISCI.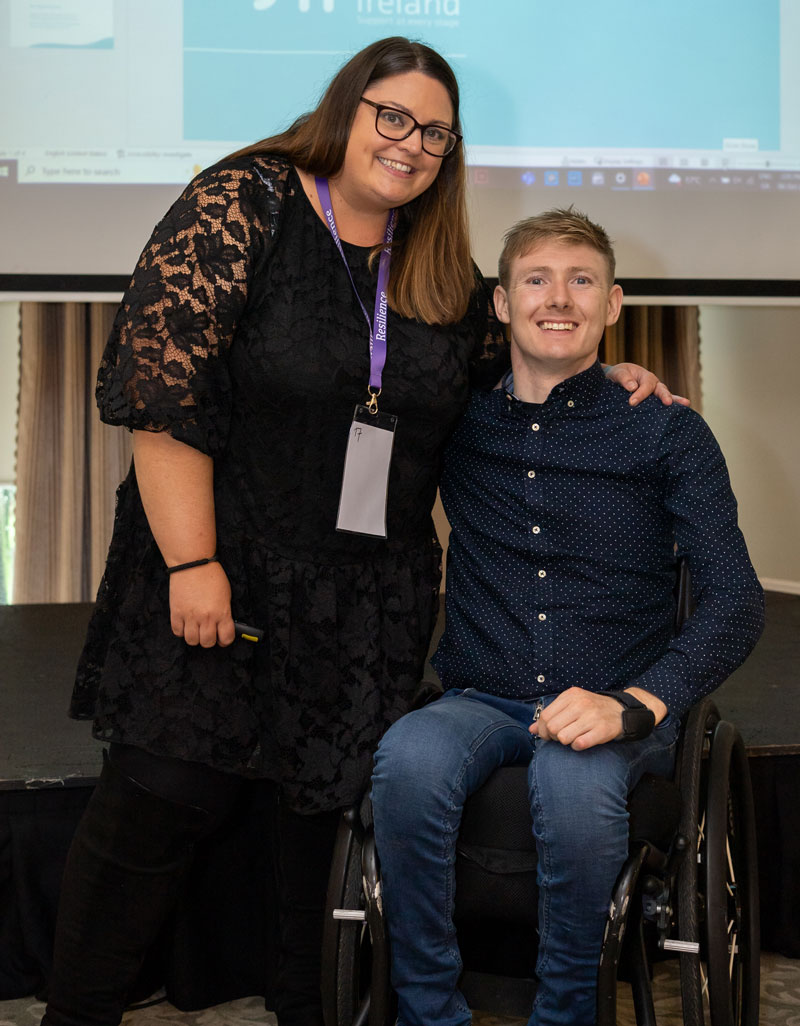 Cora O'Leary pictured with keynote speaker Jack Kavanagh at our Symposium 2022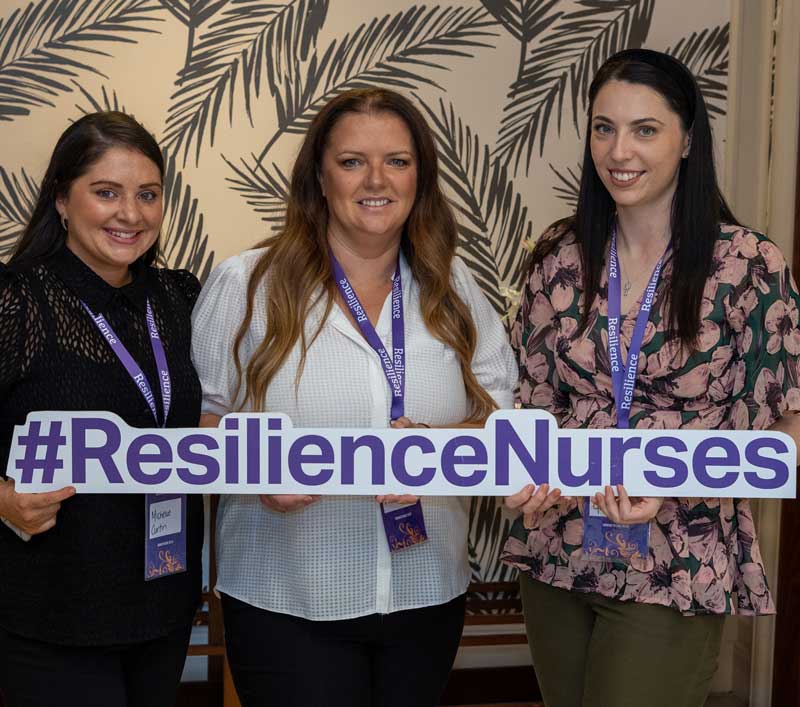 Some Resilience Nurses enjoying our Symposium 2022
Introducing the DAISY Award
This day was also used to introduce our membership of the DAISY* Award. This is an international recognition programme, started in 1999 in memory of J Patrick Barnes who died from complications of the auto-immune disease Idiopathic Thrombocytopenia Purpura (ITP) at the age of 33. Patrick's family saw the difference made by the quality of Patrick's nursing care, and created the DAISY Award so they, and other families, can thank and honour special nurses. Patients, loved ones, visitors, physicians, staff members and volunteers can nominate a nurse by sharing a story that depicts their nursing excellence. Every month, one Resilience Healthcare Nurse is selected by peers to receive a DAISY Award.
*DAISY is an acronym for Diseases Attacking the Immune System.
Planning will start soon for our 2023's symposium which again will be a great learning and connecting opportunity for our nurses and healthcare professionals.