Be part of our Outreach Team in Dublin
Evening Service – Monday to Friday only
After establishing our Community Services and Outreach Programme in the Munster region we then went on to develop our services in Leinster.  If you are interested in being part of a growing organisation, that are leading the way in Community Supports, then get in touch today.
What is Outreach?
For those service users who remain at home with their families, we offer tailored outreach support programmes – enabling them to enjoy community activities and facilities. As with Residential Care, there is always purpose and meaning behind each activity enjoyed – tailored to, and based on, each service user's personal Care Plan.
Most Outreach Services, provide after-school care for children, once school is over and during school holidays – in Kerry alone we provide the service to more than 40 children, many with Autism and specific sensory needs.
Fulfilling Potential
within the community
Outreach can take many forms
It could be as simple as assistance with homework, taking a child to the playground or a particular leisure activity, or helping to grow specific social skills such as how to behave when going out for a meal.
As with all the support we provide, everything we do is informed by the highly-individualised Care Plan completed for each child. While the service is clearly of huge benefit to our service users, it can also be important in giving families some respite time – and the opportunity to focus on other family members.
We are now inviting applications for the below positions:
2 x 15 hour part-time or relief contracts
This Outreach Evening Service is for a happy and gentle 8yr old boy who lives with his parents and one other sibling in Dublin.  He is a wheelchair user who has a diagnosis of Cerebral Palsy with Epilepsy, Dysphagia, PEG and is visually impaired.
The support hours are 3 -6 pm, Monday to Friday during school term and three longer days usually 10 am – 3 pm during school holidays.
One staff can support him when a family member is present in the house to help but two staff needed in the house and community outings to help with lifting, changing etc.
The support is taking place in the home but they also go for walks and trips to local shops, cafes, swimming, bus journeys etc,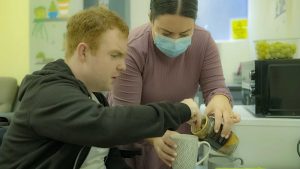 What is Required?
Previous experience working with children
Previous experience working with individuals with Epilepsy/Cerebal Palsy
Evening availability – 3 – 6 pm  
What we offer
An unrivalled opportunity to work alongside and learn from Resilience colleagues who are senior level influencers within New Directions.
Support of a Co-ordinator/local Manager with proven expertise in this area.
Full training provided by industry experts.
Ongoing continuous professional development through attendance at internal and external workshops, conferences and mandatory training.
Job security through permanent contracts.
Access to continuous employee support and engagement including employee assistance programme and bike to work scheme.
Excellent rates of pay.
Employee 'Recommend for Resilience' scheme