Be part of our growing team in Kerry
Do you enjoy supporting people to realise their potential, to develop life skills, access their community, and engage in leisure activities? Do you have skills or interests that will help you engage with service users and make a real difference in people's lives?
Resilience works with disabled adults and children, offering support in home and in the community. We are currently recruiting people to join our community services teams, with flexible contracts available including 25 hours, 20 hours, relief, and Saturday positions available. We also offer flexibility for evenings during the week.
What each of these services are:
New Directions – offering individualised community supports such as leisure activities, education, employment opportunities and social skills, for adults who are transitioning from school or rehabilitation and training support services. Shifts would include day, afternoon & evening shifts with some Saturday day hours.
Outreach Supports – offering individualised community and in-home supports for children outside of school hours – including leisure activities, independent living/life and social skills. Shifts would be afternoons & evening shifts with some Saturday day hours.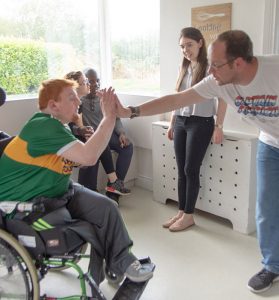 What is Required?
Previous experience working with children or adults with physical, sensory and intellectual disabilities, ideally in a community setting;
A Full Drivers Licence is essential.
What we offer:
An unrivalled opportunity to work alongside and learn from Resilience colleagues who are senior level influencers within New Directions.
Support of a Co-ordinator/local Manager with proven expertise in this area.
Full training provided by industry experts.
Ongoing continuous professional development through attendance at internal and external workshops, conferences and mandatory training.
Job security through permanent contracts.
Access to continuous employee support and engagement including employee assistance programme and bike to work scheme.
Full time, part time or relief hours available to suit your schedule.
Excellent rates of pay.
Employee 'Recommend for Resilience' scheme.